---
The construction market has become very important for PIVETEAUBOIS overall as it represents more than 60% of the volume of its sawn timber sales. With 20 years' experience and expertise in timber bonding and finger-jointing, PiveteauBois is a leader on the engineered timber market in France.
---
NEW FRENCH CLT OFFERING
PIVETEAUBOIS is making a bold and exciting move further into the engineered timber sector to build on its glulam, glued solid timber and finger-jointed offering with the development of a new CLT product – HEXAPLI.
The HEXAPLI CLT panels will be produced in Pine, Douglas fir and Spruce from local French forests. Both Pine and Douglas fir have a mechanical strength 20-30% higher than white wood and have a better biological durability.
HEXAPLI FEATURES
The HEXAPLI range consists of panels ranging from 60mm to 360mm thick made from sawn timber graded to C18 or C24 and 20, 30 and 40mm thick. Standard panels will be available up to 3.5m with a maximum length of 16m.
The panels consist of three to nine plies crossed and glued using a VOC-free and formaldehyde-free polyurethane adhesive from Purbond certified for structural use. The HEXAPLI CLT panels will be available as both wall and floor panels.
T-type wall panels consisting of three or five plies for a total thickness ranging from 60 to 200mm plus L-type floor panels with three to nine plies for a total thickness of up to 360mm.
In order to guarantee the precision, consistency and high quality of its CLT production, PIVETEAUBOIS has opted for a high-pressure (8 bar) hydraulic press.
The new 10,000m2 state-of-the art fully automated production facility will have an initial annual CLT production capacity of 50,000m3.
HEXAPLI SURFACE QUALITY AND SERVICES
According to the panel use, design brief and building structure, HEXAPLI is available in two surface types and visual appearances.
Visible quality : intended for buildings with at least one face exposed. The panels have a consistent natural appearance with no discoloration of the material. Black knots, loose knots and knot-holes are purged or repaired. The frequency and size of the resin pockets are limited and panels have minimum defects.
Non-visible quality : intended for use in buildings to be coated later. These panels are for structural elements with no specific requirement in terms of the visual appearance of their external faces. Discoloration and the presence of loose knots and knot-holes are possible.
PIVETEAUBOIS's integrated design office can work closely with architects, timber engineering companies, manufacturers, contractors and constructors to optimise the quantities, type and quality of panels required to draw a first price estimate of your project including additional costs for machining, cutting, finishing, treatment and transport. Based on customer final specifications and completed order form, PIVETEAUBOIS will supply control validation documents to all customers for verification and final approval. A full technical support service is available offering advice and expert knowledge on the production and use of all products including its CLT range.
PIVETEAUBOIS offer a range of services on request :
– Full CNC machining with +/-1mm tolerance
– Preservation of panels to be resistant to termites, rot and wood boring insects in Use Class 2
– Application of a translucent water repellent to protect the panels during transport, storage and erection
– Application of a finishing coating of your choice
– Fire treatment
– HEXAPLI panels can be produced from sap-free Douglas fir or UC4 treated Pine for increased durability.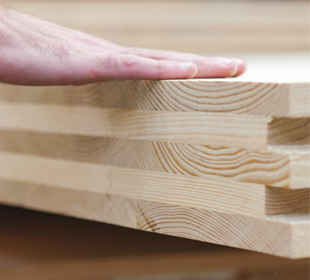 WHY HEXAPLI?
France is commonly known as 'l'Hexagone' to French people. PIVETEAUBOIS chose the name HEXAPLI to reflect the fact that the CLT panels are produced in France with French timber and are made of glued plies.