ZOOM ON JOB SITE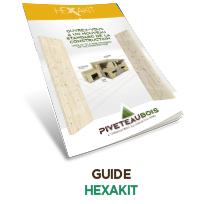 >> I CONSULT AND DOWNLOAD
THE ONLINE TECHNICAL GUIDE
A NEW CONCEPT OF STANDARD CLT 100% FRENCH FOR CONSTRUCTION AND RENOVATION
To meet your needs for reactivity, PIVETEAUBOIS has developed a range of standard HEXAKIT panels 1m20 wide, made of a mix of species of French origin: Pine and 1 visible side in Spruce.
Panel lengths are optimised for 2 or 3 support spans for floor, wall, roof and waterproofing applications. A new product that popularises CLT for low-carbon construction.
HOW TO USE CLT HEXAKIT?
HEXAKIT panels are used for structural elements such as walls, partitions, bracing and floors for all types of construction projects: single-family homes, apartment buildings, offices and industrial buildings, etc.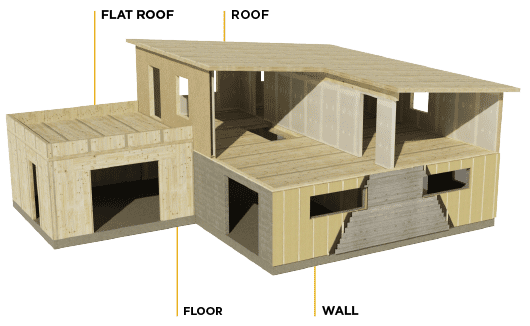 TECHNICAL CHARACTERISTICS
HEXAKIT panels consist of 3 or 5 glued plies of finger-jointed lamellas. The successive layers of wood are crossed in relation to each other. The finish is planed. The panels have 26 x 51 mm rebates on the longitudinal edges to accommodate the 25 x 100 mm pine seam strips to allow two panels to be joined together. Fastened with 5 x 60 mm screws every 300 mm.

Structural classification of the lamella : C 24 for the longitudinal plies and C 18 minimum. for the transverse ply.
Glue : Polyurethane (colourless and formaldehyde-free).
WHY USE THE HEXAKIT CLT?
By using standard HEXAKIT CLT panels, you benefit from multiple advantages :  :

✓ Load-optimised standard formats for homes and offices
✓ Installation time per m² divided by 3
✓ Material protected during the construction phase with its PARKA protection (water repellent). At the end of the job, cleaning the surfaces is much quicker than sanding unprotected wood.
✓ Reduced floor thickness.
✓ Visible Spruce underside to keep a timber ceiling
✓ Local and low-carbon solution accessible for all types of construction sites
✓  Combined deliveries with other PIVETEAUBOIS products possible (framework, glulam, finger jointed timber, cladding, decking, etc.).

LOCAL SOLUTION 100% FRENCH !

A 100% French solution with wood sourced from sustainably managed local forests and manufactured in our Vendée factory to optimise the carbon impact of your projects.
SIZING SOFTWARE
We recommend the use of the CLT Designer software, a free downloadable online design tool that includes all the characteristics of our HEXAPLI CLT. Also available or configurable in other software such as MD Bat, Acord-Bat, Dlubal, etc.

LOGISTICS SOLUTIONS ADAPTED TO YOUR CONSTRUCTION SITE PROJECTS
PIVETEAUBOIS offers  you complete solutions:




✓ Palletisation of the panels with a 5-sided reusable tarpaulin. The bottom panel is turned over to preserve the visible side.
✓ Delivery by full pallet that can be mixed with other PIVETEAUBOIS products.
✓ The lifting of panels with a complete and inseparable system (screw + ring) allows you to work on all types of sites, even the most difficult to access.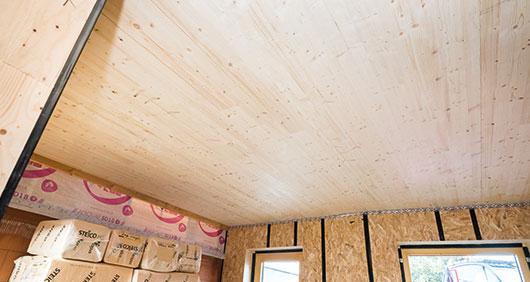 Spruce underside in visible quality – Architect: Vincent Hemery – IE
Crédit photo : Sylvain Malmouche