>

Piveteaubois Win UK Wood Protection Award
Piveteaubois Win UK Wood Protection Award
Piveteaubois recently won the award for Best Wood Protection Project at the 2018 UK Wood Protection Awards. Organised by the UK's Wood Protection Association and now in their fourth year, the WPA Awards for Wood Protection Excellence provide a showcase for the timber treatment industry and the vital role wood protection has to play in helping to make the most of wood.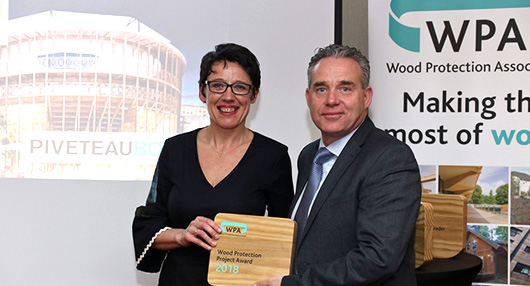 The winning scheme was for the work at the Plaza Serrezuela, Columbia – an impressive new cultural and commercial development due to open in September 2018. The central design of the development helps to recreate visions of the old abandoned bullring with a circular central area created with preservative treated glulam Pine columns.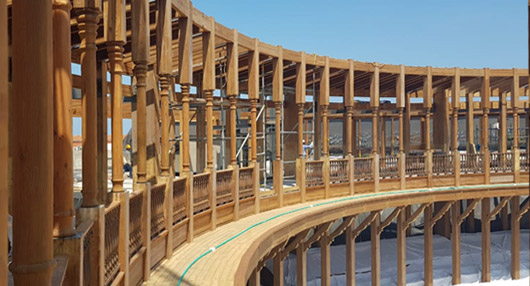 Piveteaubois supplied over 570m3 of pine glulam, both TANALITH and TANATONE treated, which involved intricate and careful treatment specifications. Each layer of Pine destined to make up the laminated columns had to be moisture controlled before an initial high pressure TANALITH treatment to Use Class 4 requirements. The layers were then carefully kiln-dried in preparation for the glue lamination process to create the finished columns.
Once laminated, the glulam columns were then given a further careful low pressure treatment (low pressure helping to avoid potential de-lamination issues) with TANATONE to provide the required brown colouration. Finally the columns were carefully air-dried over a few weeks to help avoid any potential mould growth or distortion during the transportation to South America. The timbers were treated and processed at Piveteaubois's factory in Sainte Florence in France and transported in 16 containers over to Columbia.
"This is an amazing and complicated project that benefited from the use of our DURAPIN product," said Elisabeth Piveteau-Boley, Export Sales Manager for the UK & Ireland. "The team at Piveteaubois were thrilled to win the award. We have a wealth of experience in treating timber and glulam in particular. In France, we have 10 treatment plants and have been treating timber for over 40 years. We currently treat about 130,000m3 annually of which 100,000m3 is to UC4 under our DURAPIN brand, which is recognised for the highest standards in UC4 treated timber. "